Back to all posts
Posted on
Virtual Book Fair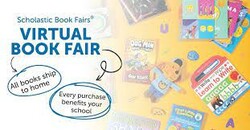 Virtual Book Fair is running at Crescent Valley for the next two weeks November 23-December 4th. 
As you know the book fairs are very important to help keep our library book selecton up to date, and we are very grateful for everyones support. The virtual fair allows us to offer our familys a wonderful selection of books shopping from the comfort of their homes and helping us earn 20% of all sales, and everything is shipped directly to your homes. 
All purchases are shipped directly to your home, and shipping is free for orders over $35 but if you order Wednesday Novemeber 25th and December 2nd between 6-8pm all orders are shipped free. 
Please share the link with family friends and co workers as this is open to everyone. 
 https://bookfairs-canada.myshopify.com/pages/5153149